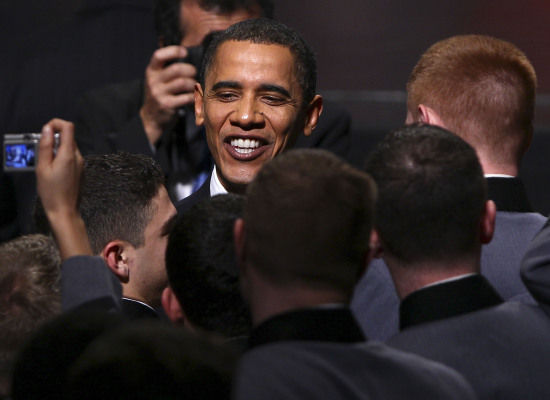 The consensus, Left and Right, seems to be that President Obama's speech was less than stirring. On Fox News's excellent news hour, Special Report with Bret Baier, Charles Krauthammer paraphrased Winston Churchill's famed battle cry to sum it up this way
"We will fight them in air, we'll fight them on the beaches, we'll fight them on the field for 18 months and then we start to pack."
But as the court-martial of 3 Navy SEALs for giving a brutal terrorist "a bloody lip"goes forward, under an Administration that may prosecute the CIA for what were legal interrogation methods, the question is: Will these 30,000 troops be allowed to fight effectively?
A few weeks ago, the Washington Times compiled a list of Rules of Engagement that soldiers in various interviews had related to Times reporters. It is not encouraging. Included in the list are:
• U.S. soldiers may not fire at the enemy unless the enemy is preparing to fire first.
• U.S. forces cannot engage the enemy if civilians are present.
Great, our forces are targets first, and we are encouraging the use of human shields. And don't get me started on the restrictions the NATO troops are under, who are supposedly "making up the gap" between what General McChrystal asked for, and what Obama is parsimoniously granting him.
Here's the full list that the Washington Times compiled– plus newly declassified clarifications.
• No night or surprise searches.

• Villagers have to be warned prior to searches.

Operational security is not allowed. We must make certain the terrorists have a chance to get away.

• ANA or ANP must accompany U.S. units on searches.

Our schedule will be dependent on the forces we are still trying to make into a legitimate institution.

• U.S. soldiers may not fire at the enemy unless the enemy is preparing to fire first.

The LAPD under Federal Consent Decree can act with this amount of force.

• U.S. forces cannot engage the enemy if civilians are present.

Okay, on second thought, the LAPD has MORE freedom to engage than the U.S. military in Afghanistan

• Only women can search women.

Note to al Qaeda: If the American squad approaching has no women with them, you know what to do.

• Troops can fire at an insurgent if they catch him placing an IED but not if insurgents are walking away from an area where explosives have been laid.

Hey, terrorists, set up roadside bombs quickly and run away.
Chris Matthews was so worked up by the lack of enthusiasm by the cadets Obama dragged in there as props that he outrageously referred to it as "enemy territory."
Well, here's something about rules of engagement that would have gotten the cadets to their feet, ignoring any rules of decorum. It's got everything the Ditherer-in-Chief lacks:
"Now there's another thing I want you to remember. I don't want to get any messages saying that we are holding our position. We're not holding anything. Let the Hun do that. We are advancing constantly and we're not interested in holding onto anything — except the enemy. We're going to hold onto him by the nose, and we're gonna kick him in the ass. We're gonna kick the hell out of him all the time, and we're gonna go through him like crap through a goose!"
Cowboy triumphalism. Tsk tsk.
But while a call to battle would have been more appropriate than the anguished college lecture we got, a week from now, what's really going to matter is how we conduct the war, not how Obama talks about it.